Women's World Football Show's 2014 Player of the Year: Sophie Schmidt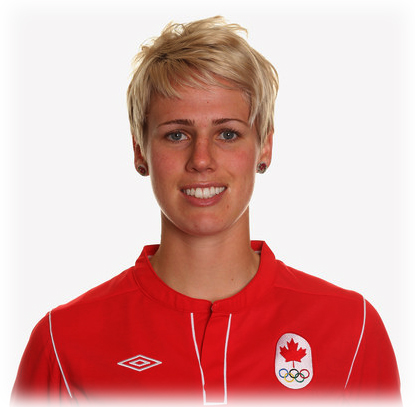 There has been plenty of standout performances from various national team players but for us here at WWF Show HQ, one player really stood out – that of attacking midfielder Sophie Schmidt who scored 6 goals in 11 starts for Canada in 2014.
Sophie's goal scoring has been invaluable to Canada this year. She finished as leading goal scorer with 6 goals – the next highest scorer being Diana Matheson with two.
It is not only the amount of goals that Sophie has scored but the importance of them that has really stood out. Twice this year she has also scored twice in a game. The first two-goal game came in the Cyprus Cup when she scored the first two goals in a 3-0 win over Finland. Her second game against world champions Japan in Vancouver in October. Sophie's other two strikes came as a last minute winner against Ireland in the Cyprus Cup and a goal against Germany in a 1-2 defeat again in Vancouver.
Women's World Football Show caught up with Sophie at a closed-door game against Sweden in Los Angeles. When asked what she thought was the secret behind her goal scoring form this year she said, "It's been a mindset change and just really taking the responsibilities upon myself to score the goals and to get myself into positions that are dangerous. Everybody knows that Sincy (Christine Sinclair) can score goals and everybody has done a good job of shutting her down so that's also helped opening up good opportunities for myself."
At club level Sophie had been employed in a more defensive role for her NWSL side Sky Blue. The Winnipeg native played a pivotal role in the club's five-game winning streak towards the end of the season that almost pushed the side into the playoffs.
Sophie really stepped up and was one of the leaders at Sky Blue. "We may not have the big name players but we are a very technical team that believed in ourselves and believed we could win," Sophie said when we asked about Sky Blue in 2014.
So congratulations to Sophie Schmidt for winning the Women's World football Show 2014 Player of the Year. If she continues this form into 2015 (and beyond) we confidently predict she will win more awards that are far more prestigious than this one.
Cheers!
Adam Barlow
England, December 2014
____________________________________________________________________________________________________
Celebrating Isn't So Easy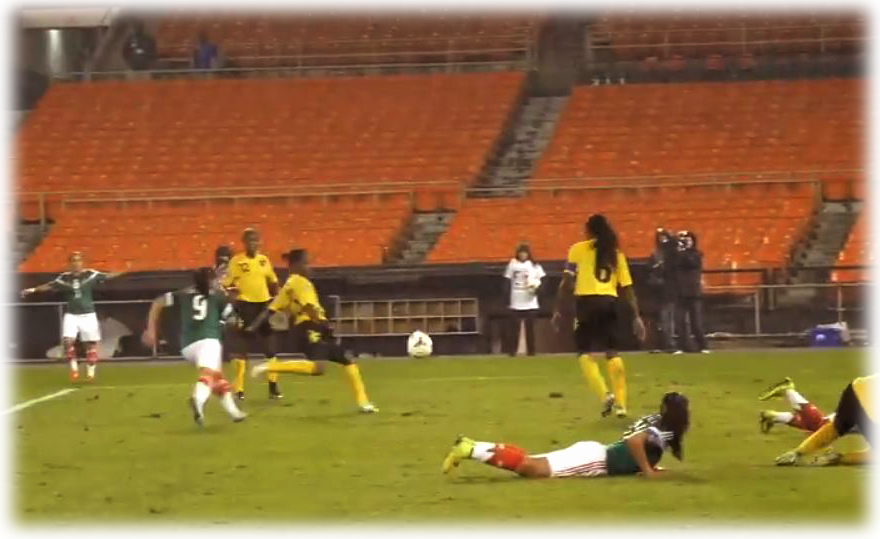 It's a great feeling to be celebrating Women's World Football Show's first year anniversary. And it's amazing to see how far we've come and how much the show has grown since our original broadcast. It's been an exciting first year with a promising outlook for the future – not only for the show, but for the growth of women's soccer throughout the world.
Women's World Football Show has given me many once-in-a-lifetime experiences, but the best thing its given me is the pleasant surprise of meeting so many great people – some, I could easily call friends. People like Alana Johnson, Sandra Prusina, Cheryl Downes, Sarah Hallett, Nathan Carr, Coach Neil Senneck, as well as the many listeners I've connected with through email and our social media channels. If the show ended today, this would be the thing I would be most grateful for.
I've covered many different sports in my career, but there are no nicer people than those involved in women's soccer – whether they're athletes, coaches, reporters, fans, front-office people, groundskeepers, ushers, etc. It's just a culture of niceness. I can't think of any other way to say it.
However, there's still something about women's soccer that concerns me and it's the thing that keeps me up late at night or wakes me up in the early morning hours (I know-I know, it should be things like destroying ISIS or eliminating Ebola… but we all have our own beast of burdens!).
Here's mine (and maybe yours too): Did you see the CONCACAF group match between Mexico and Jamaica? It was a pretty big game because the loser was basically handed a one-way ticket home and the winner – a chance for a bid at the 2015 Women's World Cup. The match was held at RFK stadium in Washington DC, the home of NFL's Washington Redskins. The stadium holds a little over 45,000 people, so I knew the crowd was going to look sparse on the TV screen. I was not prepared for what I saw.
Take a look at the highlight reel from the match. Yes the play was fantastic, but concentrate on the seats in the background. Adam would call it "pathetic" and I would have to agree.
True it was raining on and off… but look at the stands!! This was a BIG game. Why wasn't anyone interested? As a marketing writer I could think of a million reasons. As a fan, I can't think of one.
Would a men's World Cup qualifier between Mexico and Jamaica have brought in more fans? Absolutely, especially one of this magnitude – rain or no rain.
I know this because the last time the Mexico Men's National Team played a Caribbean side in the United States was when they faced Trinidad and Tobago at the 2013 CONCACAF Gold Cup at the Georgia Dome in Atlanta. The attendance at that match was 54,229.
I just let out a heavy sigh, how about you?
U.S. Soccer has taken a positive step toward growing the women's game by recently partnering with IMG to help with marketing and distributing until 2022. Hopefully they can push women's soccer from obscure online feeds to major broadcast networks. If they can fill up bleachers  and pier-sides at beach volleyball tournaments, maybe they can find a way to sell a few tickets to a World Cup qualifier.
In the meantime however, what can we do as professionals and as fans to help grow the game? Well, we can still keep spreading the word. We can reach out to a younger generation or to their parents who were once inspired by the likes of Mia, Brandi, Julie, Joy and company (thank goodness for those sweet-wonderful 99ers, right?!).
We can pick any women's league in the world and support them. There are plenty of them to choose from: NWSL (USA); W-League (USA & Canada); FAWSL 1&2 (England);  Westfield W-League (Australia); Women's Bundesliga (Austria); Women's BeNe (Belgium/Netherlands); 3F Ligaen (Denmark); Naisten liiga (Finland); Division 1 Féminine (France); Frauen Bundesliga (Germany); Femminile Serie A (Italy); Nadeshiko League (Japan); WK League (Korea Republic); Toppserien (Norway); BEWNL (Republic of Ireland); Women's Premier League (Scotland); SASOL Women's League (South Africa); Primera Division (Spain); Damallsvenskan (Sweden); Nationalliga A (Switzerland); Premier Women's League (Wales); Urvalsdeild kvenna (Iceland); WPSL (USA)
Let me know if I missed any!
According to United Women's Soccer, there are more than 29 million registered women and girls playing football globally today. If that's a true stat, than how many more millions are in the stands cheering them on?
Recently, a stranger in front of me in the checkout line at TJ Maxx asked me about the NWSL shirt I was wearing. Because of a 3-minute conversation, he now knows all about the league and he's going to check it out online when he gets home. One down, 28.9 million to go! I think we can do it!
It's easy to become complacent, especially when we're surrounded by footie-related news, fellow soccer lovers and soccer content twenty-four-seven. But the reality is, there still is plenty of work to do to help get people excited about women's soccer, create interest in the women's game and fill up a stadium to watch two teams play for a shot at the World Cup.
Let's save the celebrating for that day.
Take Care!
Patty
California, October 23, 2014
____________________________________________________________________________________________________
As One Door Closes, Another Opens
Hello chaps pip pip and all that!
As most of our listeners will know the NWSL is at its climax. As this humble-scribe-turned-radio-host types these words of wisdom all the playoff slots have been filled. In a week or so the NWSL season will be over and consigned to the history books.  That chapter will end.
"What will you fill the show with?" I hear you cry! Well fear not my friends for a cavalry of fresh coverage is on the way to your very ears.  Here at HQ, unlike many other outlets for women's football (mainly sites in the USA), we realize that there's good women's football all year 'round if you take the time to forage for it.
Women's football most certainly doesn't stop just because one league in one county has wound up for the year – although some may tell you otherwise. So what do we have up our sleeves?
Well in early September the W-League in Australia commences and we will be keeping you up to date via our good friend Cheryl Downes from the excellent website The Women's Game. This coverage will be a prominent feature over the next few months and I for one am very excited to learn more about this league. Both Patty and I (with help from our furry friend) will be chatting with Cheryl about all things Down Under.
Then we also have the climax of the domestic season here in England along with the Women's World Cup qualifying sections from North America, Africa and Europe.
Along with lots of other very exciting plans we have lined up that are top secret. I can't go into them in too much detail as you never know who's reading this. Fear not however as there will be plenty of Schmidt-Bits and probably Patty droning on about turf. I offer my sincere apologies for the latter yet none for the former.
Oh, and one date not to be missed is October the 23rd. That is our first Birthday and we have a very special prize to give-away. And if you want to send us birthday cakes please feel free to do so.
Until next time, its over and out from me,
Cheers!
Adam
England, August 2014
____________________________________________________________________________________________________
News Flash: No One's Perfect!
Ever check your Twitter notifications hoping to see if you got a retweet or a favorite, only to be lambasted by some soccer-know-it–all who feels the need to publicly correct you? Oh, I'm sorry, I said Free Kick instead of Goal Kick. My bad!!
There's a lot of things I like about Women's World Football Show. For one, I get to talk women's footie with Adam. He's a wealth of knowledge and a true stat-man when it comes to soccer. But with that said, another thing I like is that we don't claim to know everything  about women's football. We know a lot, because we're soccer junkies (just like a lot of you!). But we're not football uber-geniuses.
We don't pretend to know it all, but I'm proud of the fact that we always have our nose to the grindstone and our ear to the ground when it comes to women's soccer. And we love sharing soccer news and cool things about the game with each other and with you guys.
Another thing that I think makes this show unique is that both Adam and I have real jobs and real lives (I know that's hard to believe but it's true). Our life's ambition isn't to be radio personalities or make a few bucks off the backs of other shows like many online sports networks (you know who you are and please lose our contact information).
I like the fact that we're fans. We love the game. And we want, in our own small way, to help grow the women's game and hopefully that's what we're doing. And we're glad that you all are in the trenches with us!
So, the next time I say something life-shattering, like pronouncing Ella Masar's name Ma-SAR instead of Mass-er, it'll be just fine. We're all women's soccer fans and we're here to lift each other up and celebrate the game we love. Now that's perfection!
Take Care!
Patty
California, July 16, 2014
____________________________________________________________________________________________________
Going Forward
So what are our plans going forward I hear you asking?
When Patty and I first started discussing a plan to set up the show, we really wanted it to be a WORLD show. It was our goal to reach out to leagues, players and coaches from around the actual WORLD. We didn't want to do, as some other shows and use the word 'world' willy-nilly. We wanted it to mean something.
And in the last eight months, I think we've done a fair job of it. But we want to do more.
For instance, we've found a fantastic reporter based down under who will be able to keep us up to date with the Matildas and (when it starts up again) the W-League. Adding correspondences from all over the world is just one of the ways we are determined to help grow the women's game. Plus it's just fun!!
In the coming months we have plans to include players, coaches and other sports journalists from even more countries. It's been a great beginning for WWFShow. We want to continue this path of going forward and we're glad you're on the journey with us!
Cheers!
Adam
England, June 23, 2014
____________________________________________________________________________________________________
Barry's Blog

Hey Everyone – Barry the Beaver here!
How's it goin', eh?
Since the two human hosts have been taking so long getting this blog off the ground, thought I'd step in and get it started. Like they say – 'If you don't know where to start then start with the beaver!'
So, since the English sap… err I mean chap… is sleeping (or passed out, it's hard to tell), thought I'd take over his computer and write the first blog.
Since the two like to talk so much about this subject (especially that short-round American), thought we'd talk about Grass vs Turf. The solution is quite simple, eh.
PLAY ON TURF! It's much quicker, more humans get hurt and I can't eat it or build my home in it. So, I'd say it's perfect, eh.
Hope this post kick-starts the Women's World Football Show blog! I'm sure once this posts, the two will be feverishly exchanging texts to figure out who will top the beaver's blog! God knows they waste enough minutes texting on the subject of Sophie Schmidt and Amy Rodriguez. I'd rather watch Kentville Intermediate Curling! (no, really I would).
Thanks for reading and don't forget to follow me on Twitter @BarryTheBeaver6… and Go Breakers Dash (oh, what does it matter) I love you Kaylyn Kyle!
– Barry the Beaver
England, June 7, 2014