Episode 104: In a single moment, Brandi Chastain and her 1999 USA Women's World Cup teammates changed the atmosphere of women's sports as we know it. Women's World Football Show, Episode 104 welcomes the iconic role model and ultimate game changer. Also, Haiti Women's National Team coach and professional player Mariana Brito Neves, and a Germany report from sports writer Jana Lange.
As a member of the U.S. Women's National Team, Brandi Chastain had a far-reaching effect on women's soccer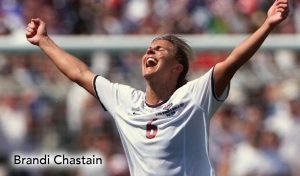 around the world. Today, Brandi continues to make an impact. In her latest role as Executive Director & U-19 Head Coach for the California Thorns FC, a member of the U.S. Development Academy, Brandi is preparing young girls to become the leaders of tomorrow, on and off the pitch.
The two-time Olympic gold medalist and two-time Women's World Cup champion chats with Patty about her new role with the California Thorns, her thoughts on what makes a great leader and of course what it means to be forever etched into the sports history books, and more! Brandi is a role model for the ages and we're honored to have her here! For more info on California Thorns FC and a chance to try out, visit CaliforniaThornsFC.com. (11:41')
Mariana Brito Neves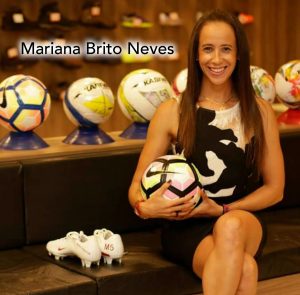 In one of the more inspiring interviews to ever air on Women's World Football Show, Adam sits down with Brazilian professional footballer Mariana Brito Neves. After playing college football at Goshen College in Indiana, Mariana took her skills and knowledge and became a coach for the Haiti National Women's Soccer Team. Mariana shares her stories of trials and challenges of the Haitian team and their commitment to play professional football. Now playing in France, Mariana continues to take her game and her life to the next level! (55:00')
Germany Report with Jana Lange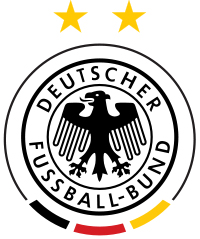 With an early exit in the UEFA Women's EURO 2017, many questions have been raised on the state of the German team. Here to answer all those questions is German sports writer Jana Lange! What was the main cause of Germany's early departure, how is Steffi Jones doing at the helm, and what changes can we see at the upcoming Women's World Cup qualifiers? Jana answers all these and more! Jana takes out all the guess work and gives the straight facts!
PLUS…
A look into the scandal facing the Lionesses; A complete NWSL Week 18 update; An update on Shelley Kerr's Scotland call-ups; and it's that time again when the Englishman (AKA Adam Barlow) gives us our U.S. College rankings… chomp…chomp…chomp… And More!!
Original Broadcast Date: August 27, 2017
Photos courtesy of Mariana Brito Neves; NBCBayArea.com; YouTube
Women's World Football Show website design and theme music by Patricia La Bella
Fade out song courtesy of The Power League
Women's World Football Show® is a registered trademark and it's audio and logo cannot be used without expressed written authorization.