Women's World Football Show, Episode 52 features a Women's FA Cup Final report with Chelsea Ladies FC head coach Emma Hayes and Notts County head coach Rick Passmoor; Germany WNT report with German sportswriter Jana Lange; and former Dutch player and philosopher on women's sports studies Dr. Martine Prange.

Chelsea Ladies are the 2015 Women's FA Cup Champions. Played at the historic Wembley Stadium in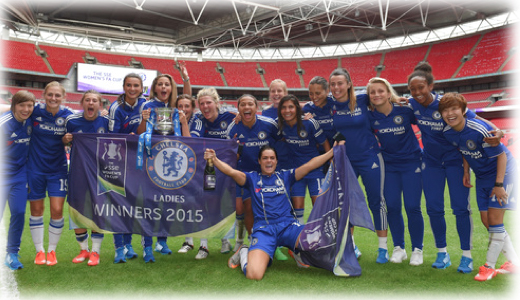 front of a crowd of 30,710 supporters, the Women's FA Cup Final featured Chelsea Ladies vs. Notts County Ladies. Adam was among the crowd and gives us a full recap.
We hear from a very elated and relieved Chelsea head coach Emma Hayes, as her team finally brings home treasured hardware. Also Notts County head coach Rick Passmoor gives us his thoughts playing in the Final and what it means to his team and to women's soccer.
Germany
Jana Lange is back from her 42 days in Canada with a full recap of Germany's run at the Women's World Cup. Why did Germany stumble at the end? Did Nadine Kessler's absence really make the difference? And just what is it about Hope Solo's mind games? Jana brings us up to speed. Plus, retirement updates on Sylivia Neid and Célia Šašić.
Dr. Martine Prange
Former Dutch professional soccer player and now philosopher of women's sports studies, Dr. Prange gives a unique insight into her work, research and women's soccer in the Netherlands. Her hard-hitting opinions on the problems facing women's soccer and the solutions that are needed to right the ship is worthy of discussion. Don't miss this highly-intriguing and thought provoking interview.
Plus…
An NWSL update featuring scores, standings and player news; lively debate on the future of Abby Wambach; and of course a Sophie Schmidt special bulletin.
Fade Out Music by One Republic.
Original Broadcast Date: August 2, 2015