Women's World Football Show, Episode 134, features exclusive interviews with Newcastle Jets and Utah Royals FC striker Katie Stengel; University of South Florida Head Coach Denise Schilte-Brown; and an extended Westfield W-League report with The Women's Game Editor Cheryl Downes.
U.S. forward Katie Stengel takes a break from her Australian club Newcastle Jets to chat with Adam about her experiences in the Westfield W-League, her experiences playing in the Frauen Bundesliga, her career to date, and more. With the W-League season just underway, Katie gives us insights into the team, the league, and a few reasons that keep her coming back to the Land Down Under.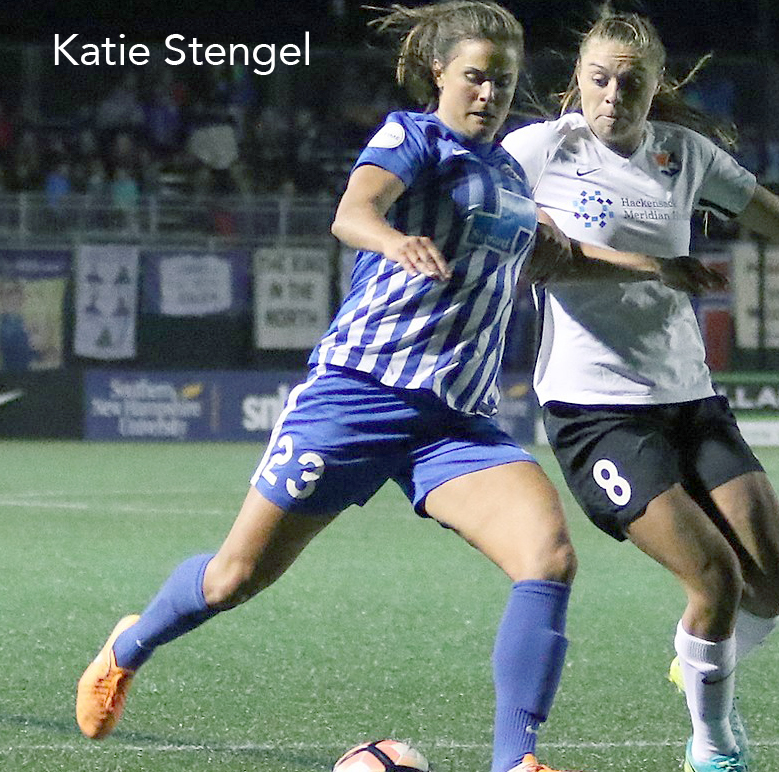 The formidable striker also shares some of her experiences playing for Utah Royals FC in the National Women's Soccer League (NWSL). What makes the Royals special (it's got to be that throne!)? After a successful college career at Wake Forest University, the Florida native played headed to Bayern Munich in the Frauen Bundesliga. Katie gives us a glimpse into why she chose to play abroad, what she learned about her game in Germany, and why her unique sense of humor was lost on the locals. There's more to Katie Stengel than you think and this interview gives it to you! (6:40')
Denise Schilte-Brown
University of South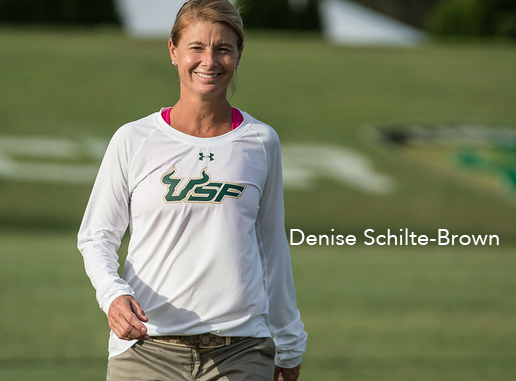 Florida (USF) women's soccer team has posted 6 consecutive seasons of 10+ wins and 8 in the last 9 years, thanks in part to their fearless leader, Head Coach Denise Schilte-Brown. The coach takes time from the NCAA Div. l playoffs to chat with Patty about the amazing 2018 season where the Bulls finished14-3 and went 8-1 in the regular season.
With over a 100 wins under her belt at USF, Coach Schilte-Brown gives us insight into some of the things that makes her teams so successful. We also look at a few standout players, big lessons learned, and how difficulties can become strengths if you choose the right attitude! Plus, we look at the college system in America, what she learned by playing in Germany and for Canada Women's National Team and more! Don't miss this interview with one of the most successful and influential coaches in NCAA Women's Soccer – Denise Schilte-Brown! (26:29')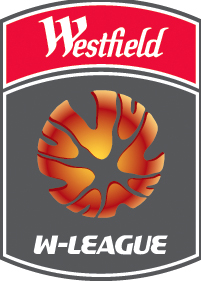 Westfield W-League Report
Had enough W-League talk? We thought not! The 11th season has begun in Australia and to talk all things W-League is Cheryl Downes, Editor at The Women's Game. Which teams did the best recruiting leading up to the season? Who are some of the young guns we should be watching? How important is Sam Kerr to women's football in Australia and throughout the world? Cheryl is here to answer all these burning questions and more! It's already shaping up to be an exciting season in Australia, so don't miss this extended report! (01:00′)
PLUS…
U-17 Women's World Cup preview; NCAA Division 1 Women's Soccer Championship update; NWSL news; Women's World Cup qualifer updates; and friendly reports with U.S.A, England, Australia, Chile, and MORE!
Women's World Football Show is proud to be selected among the Top 30 Soccer Podcasts by FeedSpot.com. View the entire list of Top 30 Soccer Podcasts!
Subscribe to Women's World Football Show on YouTube!
Photos/Logos Courtesy of: GoUSFBulls.com; Newcastle Jets; Westfield W-League
Original Broadcast Date: November 11, 2018
Women's World Football Show website design and theme music by Patricia La Bella
Women's World Football Show® is a registered trademark and it's audio and logo cannot be used without expressed written authorization.