Episode 107 of Women's World Football Show features an exclusive interview with Australian international and Portland Thorns FC striker Hayley Raso; soundbites from Thorns FC coach Mark Parsons, North Carolina Courage head coach Paul Riley and forward McCall Zerboni; and sportswriters John D. Halloran and Sophie Lawson.
The 2017 season has been a breakout year for the young Australian forward Hayley Raso. In this Women's World Football Show exclusive interview, Hayley shares with us her experiences playing for Portland Thorns FC, the Australian Women's National Team, and what she attributes to her recent successes.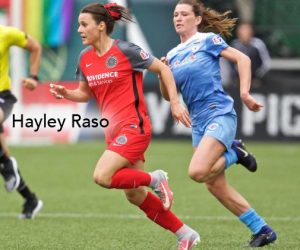 Hayley also takes us back to one of the most difficult times in her life and how she overcame it, to become a world-class footballer. The young Aussie also chats about winning the Thorns Supporters Player of the Year award, why her fellow Matilda's fit so well in the NWSL, her thoughts on heading home to play for Brisbane and more! There's a time for everything in life and this is definitely the right time for Raso! (25')
2017 NWSL Championship Final
Patty and Adam take a good hard look at this year's NWSL Championship Finals. It was a cagey affair between the two top teams in the league, Portland Thorns FC and North Carolina Courage. What were some of the highlights, lowlights and where were all the cards? We hear soundbites from Courage head coach Paul Riley and forward McCall Zerboni, who discuss this special team, the move from WNY to North Carolina and the tight atmosphere of the group. Also, Thorns FC head coach Mark Parsons shares his thoughts on Hayley Raso, and why he is a "believer!"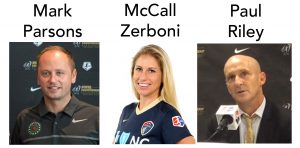 UEFA Women's Champions League
Can you believe that UEFA Women's Champions League is already underway? To get up to date on the recent results of Round of 32, Adam sits down with soccer writer Sophie Lawson. There were some stunning results including Chelsea's upset over Bayern Munich, Wolfsburg 12-2 thumping of Atletico Madrid, and more! Sophie gives us an update and a look forward to Round of 16. If you're looking for a comprehensive report into this exciting tournament, look no further than the 41st minute of WWFShow! (41')
Read Sophie Lawson's articles and updates in Vavel UK!
Chicago Red Stars
The Chicago Red Stars remain a fascination in the NWSL. With a team stacked with USWNT stars and a ton of impact players, it's amazing that this team doesn't have a few NWSL Championship trophies on the mantle, not to mention one single finals appearance. To discuss the phenomenon, Patty chats with Chicago sports writer John D. Halloran. As one of the more respected voices in American women's soccer journalism, John gives us a unique look at one of the best franchises in the league. What are they missing? Do we praise or blame Coach Dames? And where will Christen Press be next season? If you are a Red Stars supporter or wanna-be supporter, you do not want to miss this introspective report. (1:03:00')
Follow John on Twitter @JohnDHalloran
Read John's recent article on the 2017 NWSL Final in America Soccer Now.
Plus…
The 4-nations tournament in China, featuring North Korea, Brazil and Mexico; A look at upcoming international friendlies; FAWSL updates and MORE!
Original Broadcast Date: October 15, 2017
Photos courtesy of: North Carolina Courage; Portland Thorns FC; Brad Smith/ISIPhotos.com (nwslsoccer.com); Profile pic by Craig Michelidyer (Portland Thorns FC)
Fade out song: by The Power League
Women's World Football Show website design and theme music by Patricia La Bella
Women's World Football Show® is a registered trademark and it's audio and logo cannot be used without expressed written authorization.