Women's World Football Show, Episode 123 is proud to welcome Canada Women's National Team and Utah Royals FC midfielder Desiree Scott; London Bees defender Ocean Rolandsen; and Sheffield United Ladies captain Sophie Bell.
One of the more popular players in women's soccer, Desiree Scott has over 132 caps for the Canadian Women's National Team,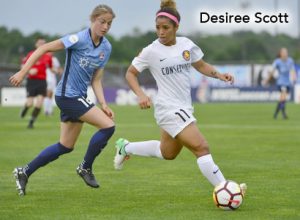 she's a 2-time time Olympic bronze medal winner and now anchoring the midfield for the Utah Royals.
Desiree takes time out of her busy schedule to chat about her unique playing style, her role in Utah, playing for Laura Harvey and more. The fearlessly tenacious Winnipeg native shares her thoughts about the Canada Women's National Team new coach, what we can expect in the upcoming Women's World Cup qualifiers, the young bloods on the squad, and much more. Don't miss this riveting conversation with the player known as "The Destroyer" – Desiree Scott! (22:00')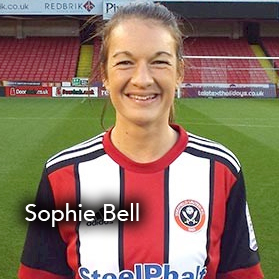 Sophie Bell
Sheffield United Ladies have proven that they belong in England's newly named Women's Championship League. With a new FA license and a team fielded by determined and talented players, Adam sits down with Sheffield's captain Sophie Bell. After playing in a shroud of uncertainty, Sophie and her teammates can breath a sigh of relief and now concentrate on the future. Sophie chats about her career, her team, and the future at Sheffield. (43:00')
Ocean Rolandsen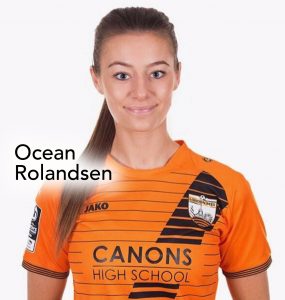 Another team to watch in the Women's Championship is the London Bees and defender Ocean Rolandsen stops by to talk about her journey with the team. The passionate and personable player chats to Adam about what drives her to improve and her hard-working ethics. In this exclusive interview, Ocean chats about her career, her teammates and looks at the upcoming season at The Hive. (57:00')
Australia Update
Editor (or 'Head Honcho') from TheWomensGame.com, Cheryl Downes stops by to give us an in-depth report from the Women's World Cup qualifiers in Jordan. Cheryl discusses The Matilda's poor form in the tournament and what they have to do to regain the form of 2017. Also a sneak peek at the W-League – will we see an expansion team? Cheryl is here with the answers… now if only Cheryl and Adam could stop being so obsessed with Patty! Follow Cheryl on Twitter @ChicasFootball. (01:17:33')
Plus…
Full reports on the Women's Premier League and Champions League (formerly FAWSL 1&2), with incoming and outgoing teams; USWNT roster news; NWSL updates; An emotional intro by Patty dives deep into the dangerous words of Jaelene Hinkle – you do not want to miss this!
LGBTQ athletes and allies team up for respect. Join the community at YouCanPlayProject.
Photos Courtesy of: FIFA.com; Canada Soccer; Utah Royals FC; NWSL; London Bees; Sheffield F.C. Ladies
Original Broadcast Date: June 3, 2018
Women's World Football Show website design and theme music by Patricia La Bella
Women's World Football Show® is a registered trademark and it's audio and logo cannot be used without expressed written authorization.