Episode 99 of Women's World Football Show features exclusive interviews with Wales Women's National Team stars Jessica Fishlock and Nadia Lawrence. Also, a special Frauen-Bundesliga report from German sports journalist Jana Lange.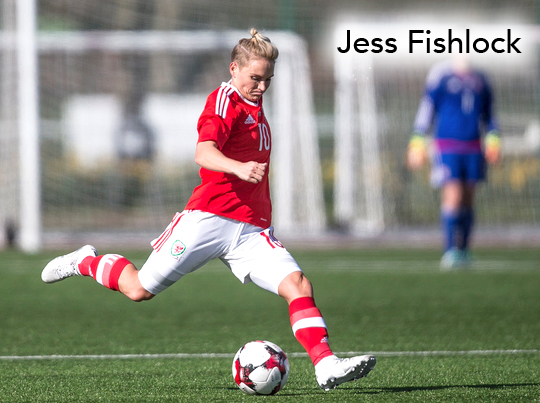 Jessica Fishlock stepped out of her comfort zone at the age of 19, leaving her Cardiff City home to conquer the world. And she's never looked back. As the only Welsh player male or female with 100 caps for the Wales National Team, Jess has set the standard for success in women's football and beyond. In 2017 Jess played for & coached Melbourne City FC to its second consecutive W-League win. Soon after she was on her way to the USA to play her fifth season with Seattle Reign FC in the NWSL (one of six leagues she's represented in her decade-long career).
In this interview Jess takes us through her soccer journey, shares what she's learned along the way and what it takes to be a professional footballer. The Reign co-captain tells us what she's learned as a coach and player from Laura Harvey and how their relationship isn't always so smooth, the team's determination to finally get what's there's and more. A strong voice in the women's game and one who always "tells it like it is," Jessica Fishlock is here and you'd be remiss not to listen to this insightful interview! (20:00)
Nadia Lawrence
Keeping on the Wales tales… Yeovil Town Ladies are making their debut in FAWSL 1 this year – So, who
better to get on the show than dangerous striker Nadia Lawrence! The Welsh international has been a huge part of the Yeovil success story and shares her experiences with the newly promoted team. What does the promotion mean to the team as a whole? How does WSL 1 compare with WSL 2? And what's it like to be a role model in the fan-friendly town? Nadia gives us all the answers and more!
Nadia has also become an intricate member of the Wales Women's National Team, and most recently call up to the team for upcoming friendlies ahead of the Women's World cup qualifiers. Nadia gives us updates on the team and has more than a few great words about Jess Fishlock as a teammate and as a coach. If you're a Yeovil or Wales supporter, this is the interview for you! (51:46)
Frauen-Bundesliga
Our friend and German sports journalist Jana Lange is back to discuss the conclusion of the Frauen-Bundesliga 2016/17 season. New champions Wolfsburg won the title ahead of last year's champions Bayern Munich (as predicted by Jana back in August!). In this segment, Jana sheds light on what helped with Wolfsburg's success, the changes at Bayern, a full report on the winners, losers and more! (01:12:35)
Plus…
Updates on the NWSL, FAWSL, USWNT and MORE!!
Original Broadcast Date: May 28, 2017
Photo credits courtesy of: Jess Fishlock; FIFA.com; FA Wales

Fade Out Music by Nelly
WWFShow theme music by Patricia La Bella