Women's World Football Show, Episode 93 features USA goalkeeper Ashlyn Harris, Denmark goalkeeper Line Johansen, former Duke University midfielder Christina Gibbons, and football photographer Lisa Durel.
Ashlyn Harris
USA Women's National Team goalkeeper Ashlyn Harris joins Women's World Football Show for an intimate conversation on life, empowerment and improvement. From her stellar youth career to her inspiring success at UNC, and all the way to the No. 1 national team in the world, Ashlyn's story is one of self-discovery, individuality and perseverance. The 2016 CONCACAF Goalkeeper of the Year recipient shares insights on the SheBelieves Cup, her recent trip to Liberia and her involvement with the organization To Write Love on Her Arms.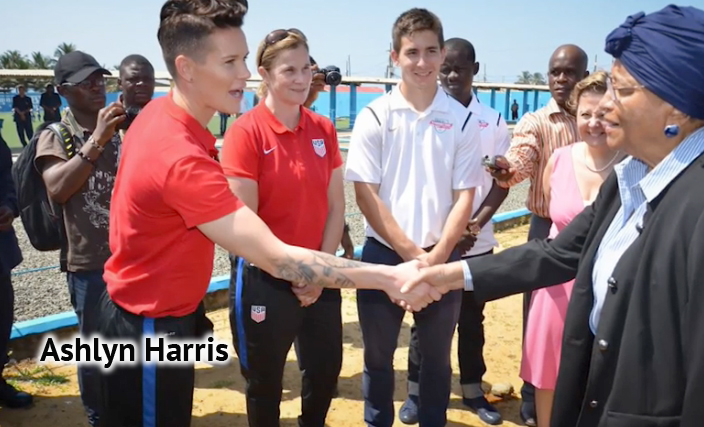 Never one to give the "comfortable" answers, Ashlyn gives insight into why she thinks she resonates with young fans, her rare, yet close bond with fellow USWNT goalkeeper Alyssa Naeher and living in the shadow of Hope Solo. Ashlyn also gives us a glimpse into her upcoming season with the Orlando Pride and why she thinks everyone should join in the excitement. An advocate for the women's game and for young girls all over the world, Ashlyn Harris is a role model who is aware of the importance of her voice and the platform she has been given to use it to help impact lives. Ashlyn is not your average athlete and this is not your average interview! (8:53′)
For a deeper look into Ashlyn's Liberia trip with Coach Ellis, check out this video from US Soccer.
Remember to get your Ashlyn Harris designed apparel before it's pulled off the shelves in April, 2017 (or before Patty buys it all up)!
Line Johansen
Keeping a long the 'goalkeeer' theme, Danish footballer Line Johansen sits down with Adam to share her journey to the Denmark Women's National Team. It was Denmark's semi-final appearance in the 2013 Euros that inspired a generation of young girls to play football in Denmark. After suffering an injury, that took her out of the game for a few months, Line is ready to come back and set to start in the upcoming Cyprus Cup. What makes a great goalkeeper and why is focus and determination key to being successful at the position? Line brings us into the net for an up close, personal view. This is what a positive mindset can do regardless of the circumstance! (45:12′)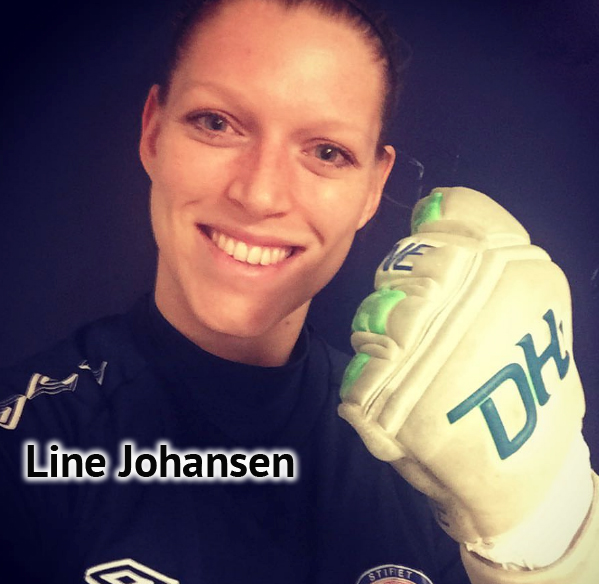 Christina Gibbons
In January, while at camp with the USWNT U23 squad in Los Angeles, Christina Gibbons attended the 2017 NWSL College Draft. Gibby didn't have to wait long to hear her name called, when she was selected 5th overall by 2-time NWSL champions FC Kansas City. The former Duke University defender/midfield stops by to chat about her draft experience, life after graduation, and the proposition of playing beside players like Becky Sauerbrunn, Shea Groom and Amy Rodriguez. Before you start following Gibby's pro career, get to know her better right here! (1:05:12′)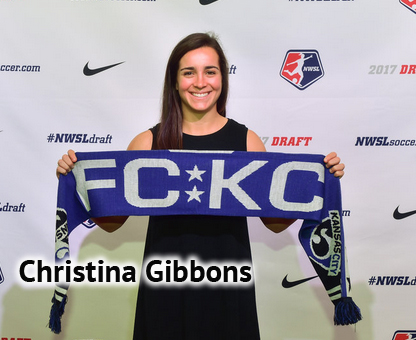 Lisa Durel
Founder and editor of the website Women's Soccer France, Lisa Durel is back to chat about all things French football. What is the impact of Alex Morgan at Olympique Lyonnais and in the country? Lisa lets us know with an in-depth look at the American's arrival in the French League. Plus, what's happening with the French Women's National Team? Lisa gives us the good, the bad and the uncertain news heading into the SheBelieves Cup and the 2017 Euros.

PLUS…
News and notes from the NWSL 2017 season openers. Reviews of a few upcoming tournaments including Algarve Cup, Cyprus Cup, She Believes Cup, and U-23 Tournament in La Manga, Spain. And a look at the newly-revealed troubles in New Zealand and the departure of kiwi legend Abby Erceg, plus tons more! We don't like to tell you what to do but… Do not miss this show!
Fade Out Music by La'Porsha Renae
Original Broadcast Date: February 26, 2017

Photo credits courtesy of: ussoccer.com; FC Kansas City; Line Johansen Facebook