Women's World Football Show, Episode 121 features interviews with Utah Royals goalkeeper Abby Smith; Houston Dash players Lindsay Agnew, Nichelle Prince, Claire Falknor; Houston sportswriter Lou Roesch; New Zealand women's sportswriter Helena Wiseman; and soundbites from Wembley with Arsenal W.F.C. Head Coach Joe Montemurro and Chelsea L.F.C. Head Coach Emma Hayes and Assistant Coach Paul Green.
In a revealing interview, Patty sits down with Utah Royals goalkeeper Abby Smith, who opens up about her near career-ending injury. Shortly after being drafted by the Boston Breakers in 2016, Abby experienced a freak injury that resulted in a ruptured patella tendon. In this candid conversation, the former University of Texas star shares what it was like going through the life-changing experience.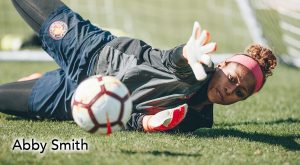 Now, in a new town and a new team, Abby has won the job of Number One goalkeeper with the Utah Royals. Abby chats about her new team, what its like playing for Laura Harvey, and getting used to her new home in the Mountainous state.
Plus, Abby gives a few goalkeeper pointers – how did she develop her goal kick distances and what's the secret behind precision ball placement? Abby's here with the answers and so much more… including coining the phrase "Helicopter Dog Mom!" This is an inspiring, eye-opening and engaging interview with one of the brightest stars in the women's soccer today! Don't miss it! (31:25')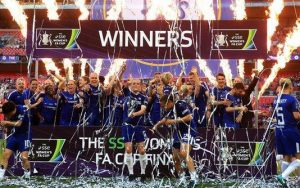 Women's FA Cup Final
Adam took the train to London to cover the Women's FA Cup Final. Listen as we recap Chelsea L.F.C. win over Arsenal W.F.C. at Wembley Stadium. This Match was an event, with over 45,000 supporters in the stands. We hear post-game comments from Arsenal Head Coach Joe Montemurro (8:30') and Chelsea Head Coach Emma Hayes and Assistant Coach Paul Green. (15;28′)
Houston Dash
There's plenty going on with the Houston Dash this season and to explore the team in-depth, we welcome Houston sportswriter Lou Roesch. Listen as Lou breaks down this young Dash team, what he thinks of Vera Pauw, and why he's excited for the season. Plus reviews of players we should be watching, and More! If you're dying for Dash news, this is the interview you want to listen to! (01:15')
Look for Lou's articles in Dynamo Theory.
Follow Lou on Twitter @SportsGuy409.
To continue the Dash chat, our roving reporter Alana "AJ" Johnson catches up with a few Houston faves, forward Nichelle Prince (01:06') and defenders Lindsay Agnew (01:08') and Claire Falknor (01:10′). The young Canadians Agnew and Prince talk about their close relationship, their days at Ohio State University and… the Stanley Cup? Plus, AJ catches up with Falknor about her playing time with Bayern Munich, how playing in the Frauen Bundesliga changed her game and more. These are the questions only AJ can ask!!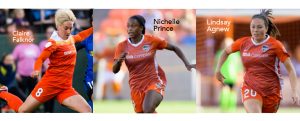 New Zealand
Women's World Football Show welcomes New Zealand footballer and sportswriter Helena Wiseman to the show. Helena will be joining us from time to time to chat all things NZ – the league, the kiwi players, the Football Ferns and more! Here's a chance to get to know Helena and hear her thoughts on state of women's football in New Zealand. (01:30')
Follow Helena on Twitter @HelenaWiseman
Read Helena's articles at  InTheBackOfThe.net
Plus…
News and updates from the NWSL… and just how does Adam smuggle Barry on the train? We find out all this and more!
Photos Courtesy of: Utah Royals; Houston Dash;
Original Broadcast Date: May 6, 2018
Women's World Football Show website design and theme music by Patricia La Bella
Women's World Football Show® is a registered trademark and it's audio and logo cannot be used without expressed written authorization.