Episode 106 of Women's World Football Show features exclusive interviews with North Carolina Courage striker Ashley Hatch; Western Sydney Wanderers striker Rosie Sutton; and from Girls on the Ball, Sophie Downey.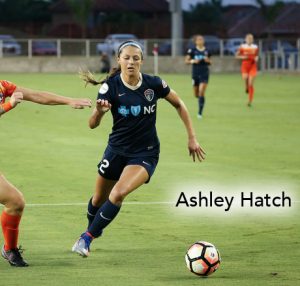 There are so many great young players in the women's game today, but none as exciting as Ashley Hatch. The young striker was selected second overall in the 2017 NWSL College Draft by the North Carolina Courage and is building a name for herself as someone who plays and lives with a fearless spirit.
In this interview, Ashley tells the story of how she discovered her love for soccer and what went into her decision to play at Brigham Young University. A favorite to win the NWSL Rookie of the Year Award, Ashley is the best example of what happens when hard work meets opportunity. Off the pitch, Ashley is just as committed to being true to herself, her faith and her family. An inspiring interview with an inspired athlete! (10')
Rosie Sutton
The game is growing in Australia, and Rosie Sutton a big reason why.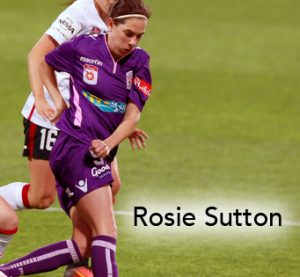 Not only a pivotal striker in the Westfield W-League, Rosie also worked with the PFA to get a more comprehensible Collective Bargaining Agreement (CBA) in place for the players. We chat with Rosie about what it took to come to an agreement and how her idol Kate Gill paved the way for her on and off the pitch.
Rosie also shares her experiences playing in Iceland and Korea, her long stint at Perth Glory and her new home with the Western Sydney Wanderers. And find out why Rosie is dubbed the "Crazy Cat Lady!" Don't miss this pawsitively purrrfect interview! (38')
FAWSL
Sophie Downey of Girls on the Ball website stops by to chat about the big changes in the FAWSL. There's a restructuring going on and there's none better to chat than Sophie! We also find out which teams and players are already turning up the heat early in the season. (57')
Plus…
A look back on the NWSL season and a look forward to the 2017 NWSL Playoffs; The Best FIFA Women's Player Top 3 are announced; The sacking of Mark Sampson comes to light… and MORE!
Remember to check out our latest blog – "Support Karina LeBlanc in Raising Funds for Dominica" by Melissa Tan
Original Broadcast Date: October 1, 2017
Photos courtesy of North Carolina Courage; Perth Glory; Rosie Sutton
Fade out song: "Be Yourselv" (That Girl remix) by The Power League
Women's World Football Show website design and theme music by Patricia La Bella
Women's World Football Show® is a registered trademark and it's audio and logo cannot be used without expressed written authorization.