Episode 105 of Women's World Football Show features interviews with two of the most popular players in the NWSL, Houston Dash goalkeeper Jane Campbell and Orlando Pride midfielder Kristen Edmonds.
Jane Campbell was drafted 15th overall in the 2017 NWSL and hasn't slowed down since. The former Stanford University standout won the starting goalkeeper position in Houston and is currently the USA Women's National Team No. 2 keeper behind Alyssa Naeher.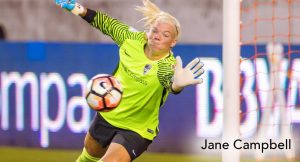 In this interview Jane chats about the current condition Hurricane Harvey has left the city, how the city is getting stronger and what kind of impact it has made on the team.
Jane has a family tradition with Stanford University, but you'll be surprised to hear that playing for The Cardinal was not her first choice. Also the Atlanta native takes us back to her youth days, gives her thoughts on playing in the NWSL, and more! Get to know Jane Campbell in this exclusive interview! (3:00')
Kristen Edmonds
The pride of Metuchen, New Jersey stops by to chat about her career and the current upswing in the Orlando Pride. Currently rehabbing from a calf strain, Kristen Edmonds gives us an update on her injury and if she'll be ready for the playoffs (Spoiler – She's getting stronger!!).
Growing up, Kristen was highly influenced by the USWNT and watched her idol Mia Hamm in the 1999 Women's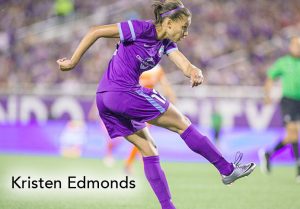 World Cup at Giants Stadium. There was no stopping the kid from New Jersey from there. While she stayed close to home for college (at Rutgers University), Kristen decided to go off and play overseas for a few years before coming back and settling in to become one of the best midfielders in the NWSL.
Kristen gives us a close-up view of the Pride and what makes this team so special. Plus, she shares her love for dogs, her future plans, and why it's always important to never quit! If you're looking for an inspiring story, the Kristen Edmonds interview is here!! (39:00')
FIFA Friendlies
Recaps of USA vs. New Zealand (and is there room for Ali Krieger??), England vs. Russia (will Mark Sampson answer the tough questions?), and Australia vs. Brazil (Lisa De Vanna leads the Matilda's & Socceroos with all time goals).
Plus…
Adam gives us a colorful rundown of the current NCAA Div l women's college soccer rankings; Patty attempts to rattle off the UEFA Women's Champions League 2017/18 Round of 32 draw. And MORE!
Original Broadcast Date: September 17, 2017
Photos courtesy of ussoccer.com; Orlando Pride, Houston Dash
Fade out song: "Flight to Newark" by The Power League
Women's World Football Show website design and theme music by Patricia La Bella
Women's World Football Show® is a registered trademark and it's audio and logo cannot be used without expressed written authorization.