Episode 100 of Women's World Football Show features exclusive interviews with Canada WNT midfielder Sophie Schmidt; Former Australia Women's National Team striker Kate Gill; and sports journalists Jana Lange (Germany) and Sandra Prusina (Canada).
This milestone episode features interviews with a few of women's soccer's most influential people. First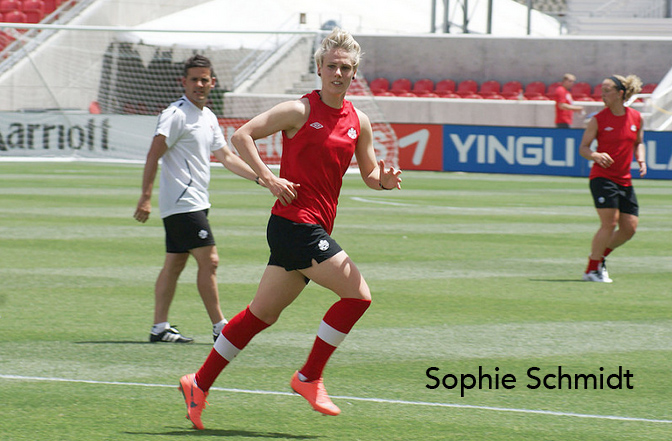 up is 2-time Olympic bronze medalist Sophie Schmidt. For the past two years, Sophie has been playing football for German club FFC Frankfurt in the Frauen-Bundesliga. The affable Winnipeg native took time to chat with Adam before traveling from Germany to Canada for upcoming friendlies for the national team.
As a longtime supporter of  Women's World Football Show, Sophie has the distinction of being the only 3-time guest on the show (and she still likes us!!). Sophie chats about her time in Germany, some of the challenges she's faced and then overcame. She also shares some of her favorite memories, the importance of Coach John Herdman, and her future in the game. If you missed any of Sophie's WWFShow interviews in the past, you're in luck, because this is the best one yet! (4:00′)
Kate Gill
Of course we couldn't celebrate our 100th episode without Matilda icon Kate Gill (her second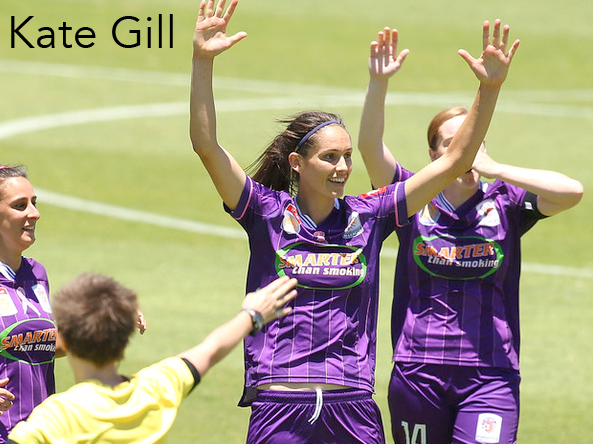 appearance on the show!) Always the player's advocate, Kate is still making an impact as a Player Relations Executive for the PFA, Australia's football player's union. The W-League 2-time Golden Boot winner (remember all those great Perth Glory days?!!), took time out of her busy traveling schedule to talk about her work in the PFA and what it means for women footballers throughout the world.
Still holding the record for all-time leading goal scorer for the Australian team, the former captain reveals what drives her to fight for player's rights, why she will always be a Proud Matilda, and what she's learned about herself since 2015. For Kate Gill supporters, this is a gem interview, and for those who don't know her – now you know! (33:45′)
Jana Lange
How much more do you know about the German national team and Frauen-Bundesliga now then you did three-and-half years ago? So much more!! Thanks to German sports journalist Jana Lange! We've had the pleasure of welcoming Jana on the show throughout the years to educate and entertain us on all things German football! She's back for this special episode to recap the growth of the women's game in Germany over the past years, the changes we've seen, the ups-and-downs of the teams and more! (55:00′)
Sandra Prusina
It was January, 2014 (Episode 8 if you're counting), when we first welcomed Canadian sports journalist and radio personality Sandra Prusina to the show (and she still keeps coming back!!). So, it's only fitting that we bring the Calgary girl back on to chat about the past, present and future of the Canada Women's National Team, it's extraordinary players, and it's intense coach. Are we seeing a changing of the guard? How is the soccer landscape changing in Canada? Just how do you pronounce Labbé? And just who is this kid named Jordyn Huitema? Sandra (aka "The Canadian Nostradamus") answers these questions & MORE! (1:12:55′)
PLUS…
We're looking back on the past 99 episodes with clips, outtakes and a few unforgettable memories. We're also taking time to thank everyone (including YOU!!) for coming along on this journey with us to help grow the women's game throughout the world!
Original Broadcast Date: June 10, 2017
Photo credits courtesy of: CanadaSoccer.com; SBS.com; FootballAustralia.com; PerthGlory.com; Zimbio.com

WWFShow theme music by Patricia La Bella