Women's World Football Show, Episode 44 features an exclusive interview with USWNT striker Christen Press; and Mexico Correspondent Pamela Del Olmo.
Women's World Football Show welcomes USA's goal-scoring savant, Christen Press! After a stellar youth and collegiate career, Christen has established herself as one of the most valued players on the U.S. Women's National Team.
Christen is known for being an open-book when it comes to her inner-thoughts and this interview is no different. In this intimate, up-close, and sometimes funny conversation, the introspective striker shares some of her most favorite memories growing up, her thoughts on her loyal fan base, her feelings about playing in her first Women's World Cup, and more!
Think you know everything there is to know about Christen? We ask her questions she's never been asked before and we guarantee you'll love her answers. Now if only we can get her to cut a rap song for our show theme!
Mexico Women's National Team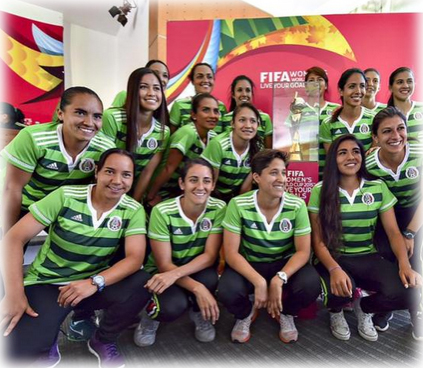 Our Mexican pundit, Pamela Del Olmo brings us a timely update on the El Tricolor. Her dedicated insight gives us a unique perspective on this sometimes mysterious team. What are the strengths of the team? Who are the players to watch? And why is advancing out of their Women's World Cup group vital to the growth of the game in Mexico? Plus, what do the fans and the players really think of having so many Mexican-Americans on the team? Pamela lends her expertise and knowledge on these subjects and more! Follow Pamela on Twitter @pndom.
International Updates
We're delivering brief updates on FAWSL 2, USA vs. Ireland and Champions League! Mark Sampson announced the England Women's World Cup squad and Adam breaks it all down. Australia manager Alen Stajcic announced his squad and Patty is none-too-happy.
Wait… there's more!
Adam explains why he's so grumpy about Mother's Day, Patty's Fox Channel lovefest, and a #AskBarry question (kind of). And did we mention Christen Press?
Fade out music: The Simpsons themes by Green Day and Los Lobos
Original Broadcast Date: May 15, 2015.