Episode 118: National Women's Soccer League (NWSL) season 6 is here and Women's World Football Show features interviews with Seattle Reign FC Defender Lauren Barnes and Head Coach Vlatko Andonovski; Orlando Pride Defender Carson Pickett; Double G Sports reporter Jayson Love; soundbites from the Orlando Pride's Tom Sermanni, Sydney Leroux, Shelina Zadorsky, and from Utah Royals FC Head Coach Laura Harvey.
2018 NWSL Report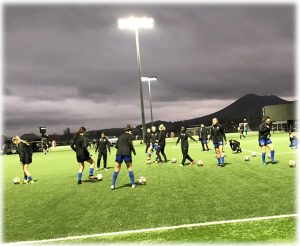 The sixth season of the NWSL has kicked off and Women's World Football Show is packed with exclusive interviews and soundbites. First up, we hear from Seattle Reign FC Head Coach Vlatko Andonovski and star defender Lauren Barnes as they prepare for the season. The team recently played UCLA in a pre-season scrimmage in Southern California and Patty was there to record all the action. How is Vlatko preparing his team, what are his thoughts on the city and what does the future look like? He gives us the scoop. Plus we hear from SoCal native Barnes about her new coach and her recent experience playing and coaching in California. (Vlatko Andonovski 3:38′; Lauren Barnes 6:47′)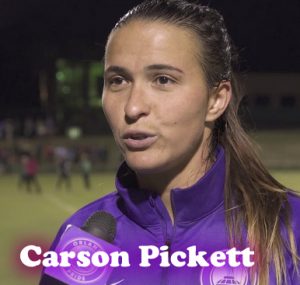 WWFShow post-game reporter Alana "AJ" Johnson returned to Orlando for the opening match against Utah Royals FC. Listen to AJ's exclusive interview with new Pride defender and former Florida State Seminole Carson Pickett. Fresh off of a successful campaign at Brisbane Roar in the Westfield W-League, Carson chats with AJ about coming back home to play in Florida, her W-League experience and more! Plus, AJ brings us interesting soundbites from Orlando Pride Head Coach Tom Sermanni and members of his team Sydney Leroux, Defender Shelina Zadorsky. Plus, what happened with that 'face interference' call? We hear from Utah Royals FC Head Coach Laura Harvey on the controversial call that may have cost the her team 3 points. (Laura Harvey 28:33′; Sydney Leroux 30:50'; Shelina Zadorsky 32:10'; Carson Pickett 34:03')
Sky Blue FC Report
Starting the 2017 NWSL season with a bye, Adam thought he'd give some 'love' to the New Jersey side by welcoming Double G Sports soccer writer Jayson Love to the show. Jayson gives us insight on this new-look Sky Blue squad with in-depth analysis. As a team in transition, how does SBFC match up in a league that's fast and physical and packed with international stars? Adam and Jayson break it all down. (46:14′)
Follow Double G Sports on Twitter @DoubleGSports
Kenya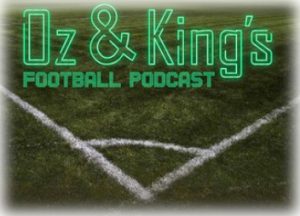 Yes, you read it right (we're here for you World!). Recently the podcast duo of Oz and King took a trip to Kenya to explore the football culture in that country. Patty catches up with the guys to chat about their experience and observations of women's football in Kenya. Don't miss this exciting and interesting conversation as we delve into the depths of women's soccer in this mysterious African country. (1:22:00)
Follow Oz and King on Twitter, Facebook and Instagram.
Check out their first episode for the Kenya trip on their website.
Check out these other exciting Oz and King episodes:
Pia Sundhage Interview.
Victoria Sandell Svensson Interview.
Plus…
Adam chats about the impact of Manchester United's entering of the FAWSL and gives us an update on FAWSL 1&2; The Christen Press saga continues; An in-depth look at upcoming 2018 CONCACAF Women's Championship, CONCACAF Caribbean Women's Qualifiers and CONCACAF Central America Women's Qualifiers; Patty and Adam give their NWSL predictions; and MORE!!
Photos courtesy of: NWSL; Seattle Reign FC; Orlando Pride; Oz and King; Patricia La Bella
Women's World Football Show website design and theme music by Patricia La Bella
Women's World Football Show® is a registered trademark and it's audio and logo cannot be used without expressed written authorization.