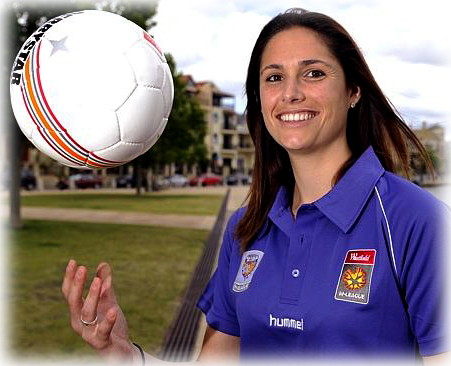 Women's World Football Show, Episode 29 features an exclusive interview with Australia striker Kate Gill; Plus Texas A&M defender Meghan Streight and University of Kentucky forward Stuart Pope; and Prince Edward Island youth soccer spoksperson Susan Dieghan.

Women's World Football Show welcomes the Matilda's all-time leading goal scorer and Perth Glory FC striker Kate Gill! The Aussie international gives us an inside look at the Glory women and what has made them the best team in the W-League this season.
As one of the most skillful female goal-scorers of our time, Kate gives us a glimpse into what her Matilda goal-scoring record means to her as a player and as a person, growing up an Everton fan, her discovery of football and more.
England Update
Did you know over 55,000 fans will be rocking Wembley this month for the England vs Germany friendly?! Adam previews the upcoming match with a look at Mark Sampson's squad, as well as valuable viewing information.
SEC Women's Soccer Championship
Postgame Gator Alana "AJ" Johnson stops by to chat about the SEC Women's Championship with two great interviews: Texas A&M star defender Meghan Streight and University of Kentucky forward Stuart Pope. If you don't know much about women's collegiate soccer, then you'll want to get educated with "WWFShow College Soccer 101."
Plus your crusty trusty co-hosts recap CONCACAF World Cup qualifiers and European Champions League qualifiers.
And finally, Adam takes us to Prince Edward Island in Canada to talk grassroots football with Susan Dieghan. Learn about the great things they're doing to help grow women's soccer through youth camps and women's coaching programs.
Oh and did we mention Kate Gill?!
Music by Men at Work and Colin Hay.
Original Broadcast Date: November 16, 2014.