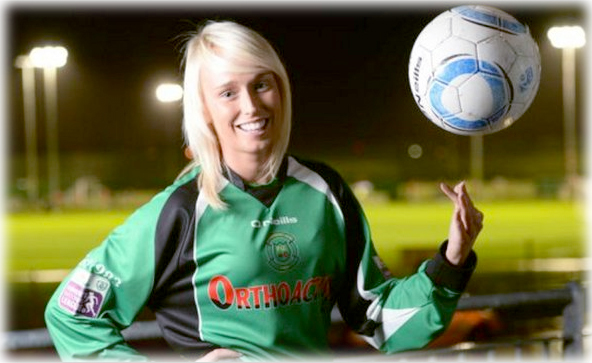 Women's World Football Show, Episode 43 features an exclusive interview with Republic of Ireland forward Stephanie Roche; Jordan Sports Journalist Waleed Abu Nada; and Girls Talk Footy editor Kehinde.

Women's World Football Show welcomes Republic of Ireland's Stephanie Roche! One of the most popular strikers in the women's game today, Stephanie tells of her remarkable journey from the Dublin suburbs to the Lone Star State of Texas.
The formidable forward gives us insight on the Irish team, what she thinks of the NWSL, and her thoughts on building a women's league in Ireland.
If all you know of Stephanie is from a certain viral video, then you only know a fraction about this amazing footballer!
Warning: Listening to this interview may cause a sudden desire to wear an unusual amount of green and a strong urge to roll around in a field of clover!
Check out Steph Roche's FIFA Puska's nominated goal!
Jordan
Sports journalist Waleed Abu Nada stops by to give us some much-needed insight on women's football in Jordan. In a region that doesn't get much attention, Jordan is one of the most progressive countries in the Middle East when it comes to women's football. Waleed gives us a  fascinating look at how Jordan is breaking new ground and paving the way for other Middle Eastern countries to follow.
Ivory Coast
Our friend Kehinde of Girls Talk Footy is back to preview the Women's World Cup-bound African teams. This week we're taking a look at the debutantes of Ivory Coast. How will The Female Elephants do in their first intercontinental tournament? Who's the player to watch? And can these underdogs make it out of a group with Germany and Finland? Kehinde gives us all we need to know and more!
NWSL and FAWSL 1&2
Patty and Adam break down the weekend's games from across the ponds. There are surprises in both leagues this season, so you don't want to miss these interesting and always entertaining reports.
WSNET
Our friends at WSNET are bidding to the Aviva Community Fund for grant funds to run a Female Fitness Fortnight (#FFF) next September. This is a huge opportunity for women's sport, fitness AND WSNet. So give them your vote!
See the project on the Aviva Community Fund.
Vote here – https://community-fund.aviva.co.uk/voting/project/view/2561/
Fade out music by U2
Original Broadcast Date: May 10, 2015.