Episode 114: Women's World Football Show features interviews with USWNT players Andi Sullivan, Emily Sonnett, Tierna Davidson and Head Coach Jill Ellis; One-on-one with Millwall Lionesses LFC defender Jordan Butler; and an exclusive with Denmark and Manchester City striker Nadia Nadim.
Boston Breakers
It's a sad day for the NWSL and women's football as the  longest running professional women's soccer team in the USA has folded after a deal for potential new ownership fell apart. The Breakers were founded in 2000 and were part of NWSL predecessor leagues the WUSA and WPS, and is the first NWSL team to fold since the league was established in 2013. So how did the demise of one of the more storied franchises in women's soccer history come about? Patty and Adam dissect the situation and share details of the dispersion draft, season ticket refunds and other information.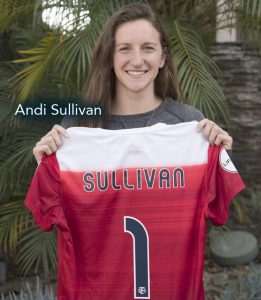 2018 NWSL College Draft
A few draft day mega-trades overshadowed the 2018 NWSL College Draft. Adam and Patty take a close look at the trades, the high selections and some of the surprises. Plus, Patty chats with the No. 1 draft pick and newest member of the Washington Spirit Andi Sullivan! We find out how the Stanford standout dealt with the crazy course of events that lead up to her 11th hour declaration into the draft, her thoughts on playing for her hometown team, her incredible 2017 college season and more!
(Andi Sullivan 24:35')
Jordan Butler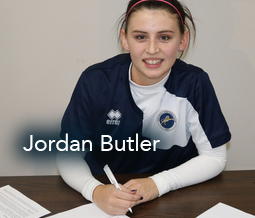 Adam sits down with Millwall Lionesses LFC defender Jordan Butler. Joining the Millwall system at only 8 years old, Jordan shares what it's like to grow up in a Millwall kit. Backed by the love and support of her family, and especially her dad, Jordan takes us through her journey to play professional football, how she overcame serious injury and more. This is a spirited interview with an inspirational player and proud to have Jordan on the show!
(Jordan Butler 33:00')
USA vs Denmark
The U.S. Women's National Team kicked off its 2018 campaign with a somewhat come-from-behind 5-1 win against EURO Women's runner-up Denmark in front of 17,526 fans at SDCCU Stadium January 21, 2018. We hear from USWNT Head Coach Jill Ellis as she assesses a few of the youngsters on the team and reflects on some of her lessons learned while being at the helm of the national team.
Defender Tierna Davidson earned her first cap for the USA, becoming the 21st player to make a WNT debut under Jill Ellis. We hear from the 19-year old college sophomore after her first cap. Patty couldn't let Denmark leave town without talking to fan-favorite Nadia Nadim. The former NWSL star and now striker with Manchester City discusses her transition to the English league, her time in the NWSL, the Denmark WNT and more!
(Tierna Davidson 55:55'; Jill Ellis 58:00'; Nadia Nadim 1:08:00')

Emily Sonnet
As the 2017/18 W-League season comes to an end, we catch up with Sydney FC (and USWNT and Portland Thorns FC) centerback Emily Sonnett! The energetic USA star talks about her journey to Australia – what brought her there, what is she learning and what does she hope to gain? We hear it all. Plus, how does playing for Sydney kept her fit and ready to take on her role with the USWNT? Emily is rapid fire with her responses and ready to hoist another league trophy… this time with Sydney FC!
(Emily Sonnet 1:26:00')
Sarah "The Cowgirl" Hallett
Our hearts were broken earlier this month at the passing of our friend and colleague Sarah Hallett. In this show, we share stories on how Sarah touched all of our lives on the show and off. Plus, we have a special clip of some of Sarah's greatest hits (and a few misses). A true inspiration to all who knew her, Sarah's kind spirit will live on in all of us.
Read Sarah's past blogs.
Listen to Episode 57 "2015 NWSL Review" when Sarah stepped in a co-hosted with Patty
Other shows Sarah was featured on:
Episode 26A "2014 NWSL Post-Season Special"
Episode 47 "World Cup Groups"
Episode 68 "The Good Fight"
In lieu of flowers and gifts, Sarah's wife and family have asked for donations to the San Diego Junior Golf Association. Click here for details.
Listen to Sarah's "Greatest Hits" clip at the end of the show, around the 1-hour, 31-minute mark.

Original Broadcast Date: January 28, 2018
Photos courtesy of: ussoccer.com; SydneyFC.com; ManCity.com; Henning Bagger/Scanpix2016; Jordan Butler; Millwall Lionesses